Sharper Point: Is monsoon mania making you mental?
I admit it: in the news business, we can sometimes be a little over the top. 
Trying to convince you that every political controversy is going to change the course of your life can be pretty exhausting. 
Then, there's the way we cover the weather. 
(Insert thunder sound effect here) "Monsoon 2018!! We are all going to die!!" 
OK, we're not that bad here at KTAR News 92.3 FM but some outlets do seem to turn every storm into Armageddon. 
Keeping in mind that one of my favorite memes from the last few years: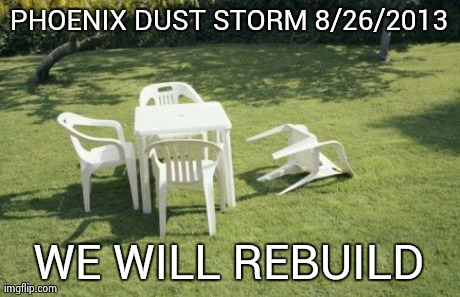 I don't think we overdid the coverage for Monday's monsoon madness.
That storm was more heavy-duty than ho-hum. Thankfully, no human lives were lost (at least not that we know of at press time) but a woman almost died in a submerged car, a good chunk of a roof was blown off of an apartment building and close to 100,000 homes and businesses lost power. 
However, if you moved here from somewhere that gets "300 inches of snow – just in January," "gale-force winds every other day" and/or "torrential rain all summer long," then our coverage is probably still too much for you. 
But you can help. 
Do your part by taking the stupid…uh…not-so-bright people in your life aside and remind them that:

The time to see if their car has an amphibious mode isn't when they're facing their first flooded wash; 

Learning how to doggy-paddle in the Salt River when it actually looks like a river isn't a great idea; and 

A nonworking traffic signal is not a signal to go twice as fast through an intersection. 
If all those people would quit putting themselves — and others — in danger, we could really reduce our monsoon coverage. 
But, if I still haven't convinced you that we don't overdo it most of the time, remember that the National Weather Service is ultimately to blame. 
They are the ones issuing thunderstorm warnings and flash flood watches and all those things that make you roll your eyes (because it's not the "storm of 1999 in (insert-the-name-of-your-hometown-here)." 
And to back me up, there are plenty of people I grew up with in Arizona who think that the National Weather Service is not only to blame for spurring on our weather coverage – but also to blame for creating the actual weather. 
I get emails from some of those folks. Unlike you, they don't complain about too much weather coverage — they'd just much prefer a forecast that includes a chemtrail count.